Lititz recCenter
The Lititz recCenter was growing at a fast pace and needed more overall space for a variety of activities including the existing aquatic and fitness programs.  A sheltered entrance and more natural light throughout the facility were also desired. The solutions, through several expansions and renovations, included a rear entrance to accommodate large crowd special events, additional locker rooms, a splash pool and most recently, two sizable additions on both sides of the existing building that included a second gymnasium, expanded fitness program areas and incorporated a number of large windows allowing natural light throughout the building.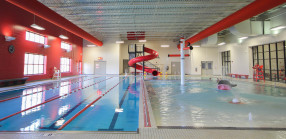 Additions and renovations of over 43,000 sf including an expanded fitness center, group fitness/dance instruction rooms, massage therapy room, yoga studio, zero-entry splash pool with slide and play area, a renovated existing gym and a new gymnasium, locker rooms with saunas, family changing room and meeting/special event rooms.  The facility continues to thrive with programs such as pickle ball, trending group fitness programs and a variety of children's, adult and senior programs all aiming to keep over 7,000 Rec members in great form!
Click here to read our case study on the Lititz recCenter.
Lititz, PA
Testimonial
Working with Beers + Hoffman's outstanding staff has been a very rewarding experience. They truly care for their community and they have done a wonderful job designing and renovating the building to accommodate better flow and use by the members and community.
Karen Mailen, Executive Director