The Wheaton Apartments at Londonderry Village
The Wheaton Apartments, at Londonderry Village (previously known as Lebanon Valley Brethren Home), is a new 3-story, 37,020 sf, 21 unit independent living apartment building, incorporating a new lobby area, serving as the main entrance to the facility.  The one and two bedroom luxury apartments range from 685 – 1260 sf.  In addition to the new construction, approximately 5,000 sf of the existing building was redesigned to house the administrative offices, a new recreational activity area, dining room, and an atrium space created from a previous courtyard.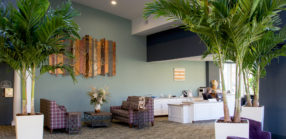 Palmyra, PA
Testimonial
One of the things we like about Beers + Hoffman is we think they're the exact right size for us. They're big enough to have the resources and technology to produce CAD drawings and computer simulations that we all want and love to show off to our customers, but they're small enough that they understand us and give us the personal attention we have come to expect over the years.
Jeffrey Shireman, President, Londonderry Village